---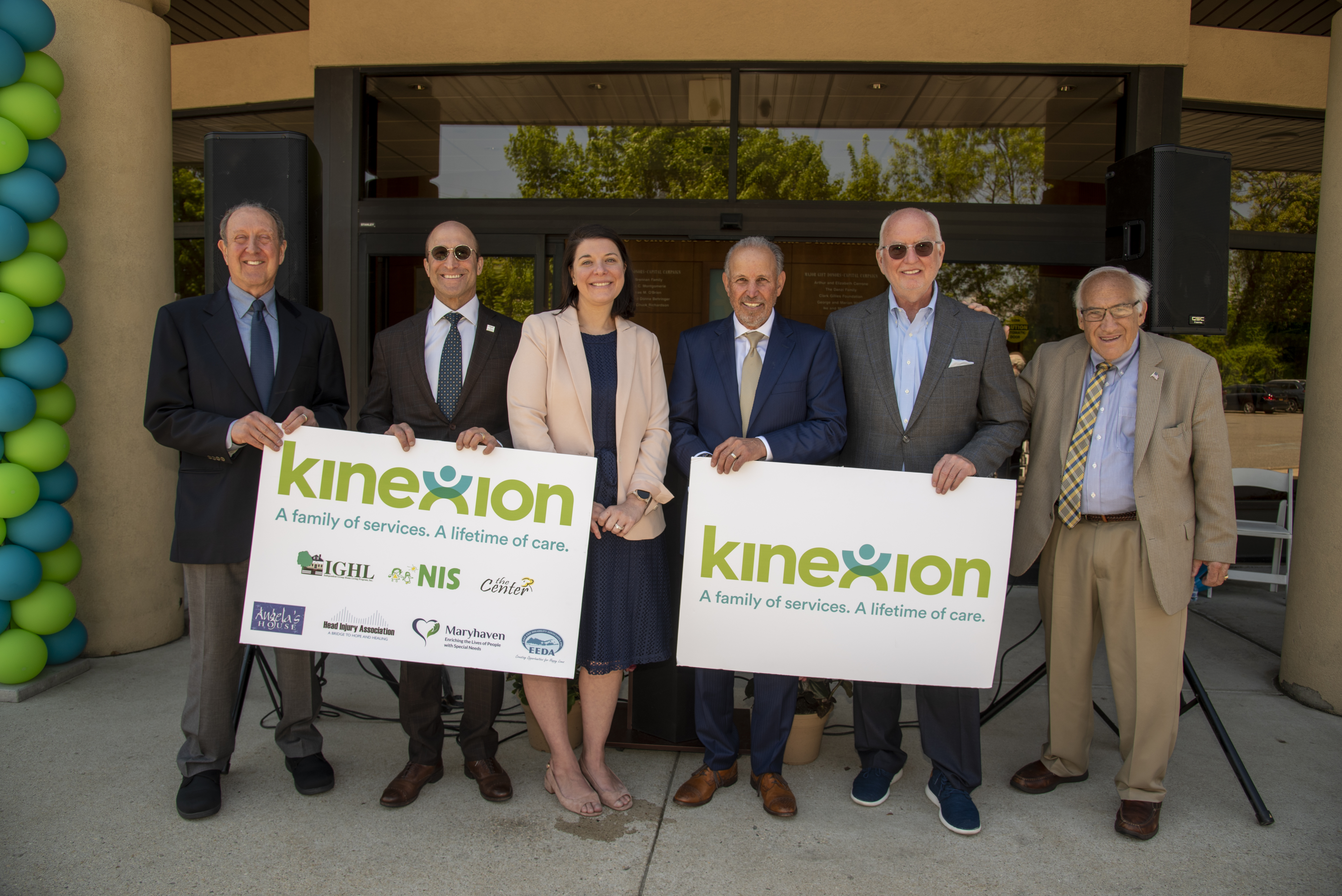 Kinexion launched to serve Long Island non-profits that care for disabled community.
More than 100 members of the Long Island disabled community gathered to help unveil the new name and logo of Kinexion, a new non-profit that will organize an existing family of affiliate organizations serving the disabled community on Long Island. The new Kinexion organization will more effectively organize services and resources that are critical to allowing people with physical, emotional and cognitive disabilities live rich and fulfilling lives.
Kinexion will become the Management Service Organization (MSO) under which its affiliate organizations will be grouped, including:
IGHL: Independent Group Home Living Program, Inc.'s innovative services and supports for people with intellectual and developmental disabilities include residential, day habilitation, vocational training and employment programs.
NIS: The New Interdisciplinary School is an innovative early childhood learning center that respects the unique needs of all children and their families. Their commitment is to provide therapuetic and educational services in a nurtuting environemnt with the highest standards of expertise.
Angela's House: The Association for Technology Dependent Children, Inc./d.b.a. Angela's House assists families caring for children with special healthcare needs that are medically fragile, chronically ill or living with a life theratening illness.

Maryhaven, Inc.:

The mission of Maryhaven is to enrich the lives of people with special needs. They provide support with compassion in our residential, day habilitation, and vocational services while promoting individuality and integration.
Head Injury Association, Inc.: The mission is to maximize potential among TBI survivors, and those with intellectual or physical disabilities, by providing the necessary residential and support programs to help them achieve four valued outcomes: Individualization, Independence, Integration and Productivity.

EEDA:

East End Disabilities Associates, Inc. is dedicated to creating practical solutions and providing innovative supports to people with intellectual and developmental disabilities on the East End of Long Island.
CDD: The Center for Developmental Disabilities, Inc. is committed to helping children and adults with differing abilities achieve their dreams by overcoming barriers to living, working, learning and enjoying recreational opportunities in the community of their choice.
"This is a new era in how we do what we do – and do it better – for the members of the disabled community who depend on us every day," said Walter W. Stockton, CEO of Kinexion. "We have built a network of services that can meet the needs of any person no matter what their disability. Nothing about that will change, and in fact, Kinexion will allow us to do it better."
The name Kinexion was chosen because of its verbal similarity to what the new MSO will do, which is connect the seven affiliate organizations.
"This is a terrific advancement in the effort to provide accessible and effective services for the disabled community on Long Island," said Kerri Neifeld, Commissioner of the Office for People with Developmental Disabilities. "Our neighbors with special needs deserve the best possible care, which these affiliates have always provided and will continue to provide, now on a more effective scale. We look forward to continuing our work with Kinexion and its affiliates for years to come."
"We are grateful to groups like Kinexion that represent our community," said Sarah Land, Family Member. "They always ensure we are heard and cared for in the best way possible."
Thank you to all who attended the event. We are excited for the future of Kinexion and all of our affiliate providers.